We Care: More Than Just Nice Words, A Secret to Our Success

We Care: More Than Just Nice Words, A Secret to Our Success
By: Ashley Lemus, Human Resources
Introduction
In today's competitive dental job market, attracting and retaining top talent is paramount for the success of any dental group. While offering competitive compensation and benefits is crucial, it is equally important for dental groups to go beyond financial rewards and demonstrate genuine care and appreciation for their employees as individuals. In this blog post, we will explore the significance of fostering a company culture that prioritizes employee well-being and outline the ways in which caring as a core tenet of our company culture has fostered our success.
Why Do We Care?
From the moment Dr. Paul took his first step towards forming the Blue Sea Dental group, that is when he joined Lee Dental Care, 'We Care' has been a guiding principle in his approach to all aspects of his role as a leader, a dentist, and a colleague. He envisioned an organization that would simultaneously care for its team members, patients, and community, with a mentality of caring across all roles that would lead to success. Over the past several years, he has been proven right as that vision has come to life in our flourishing Florida dental group.
Dr. Paul embraced the guiding principle of 'I Care' as the cornerstone of his leadership approach. Through his actions, he effectively instilled the 'We Care' mindset within his team, setting an exemplary standard for compassion and support. As our dental group grew, 'We Care' remained a beacon that has guided our core values, policies, goals, and workplace culture.
How Do We Show We Care?
We Care About Each Team Member as an Individual
We value, appreciate, and genuinely care for each team member. As leaders of Blue Sea Dental, we prioritize building a one-one-one relationship with each team member in our organization, no matter their tenure or job title. From day one, new team members are shown 'we care.' New hires are shepherded along by Human Resources so they know exactly what they are supposed to be doing and to whom they should go to with questions.
A warm welcome is offered not only by colleagues they meet that day, but when they are added to the practice social chat where those they have not yet met in person say hello.  If you are hired on your birthday at a Blue Sea practice, everyone is going to know it and wish you a happy birthday. We make every effort to help newer team members feel valued from the moment they walk in the door.
We Care to Offer Benefits Beyond What's Expected
The Blue Sea Human Resources team keeps a close eye on benefits offerings in our area to ensure that our benefits package is competitive. When employees complete their probationary period and become eligible for benefits, we take the time to thoroughly review their benefits. HR focuses on ensuring team members understand, and can get the maximum value from, their benefits . Beyond the typical benefits like health insurance and paid time off, Blue Sea Dental offers other perks to show our team members that we care about them.
A fan favorite is our birthday benefit. On their birthdays, team members are recognized and celebrated. They have a choice of taking a paid day off on their birthday or celebrating in the office with cake. A birthday greeting is also posted on the practice group chat and social media regardless of which option they choose.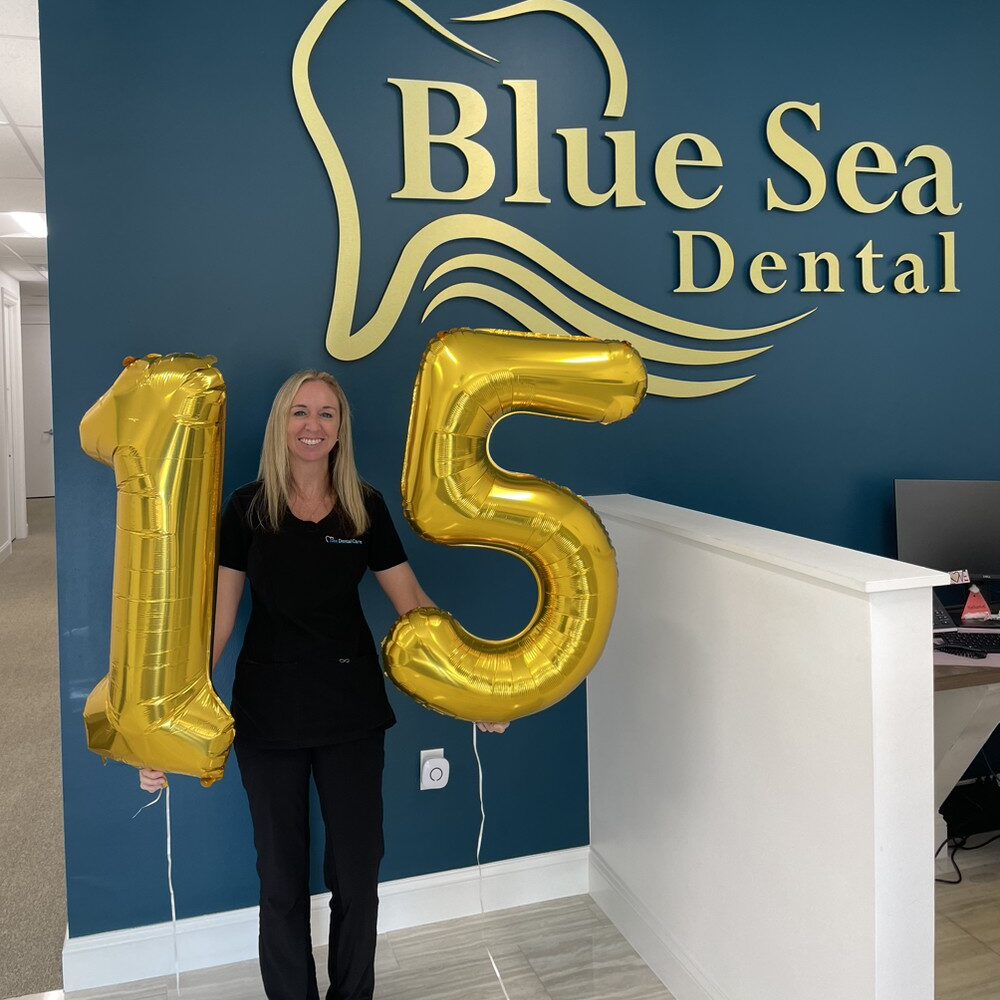 We recognize work anniversaries, both on the practice group chat and on social media. In this way we show that we value, acknowledge, and appreciate the loyalty of our employees.
We care so much about recognizing loyalty that we created Milestone Recognitions for team members celebrating five, ten, fifteen and twenty years with the company. When team members reach these milestones, they are celebrated for loyalty, dedication, and passion over their time working with Blue Sea Dental. Depending on the milestone, team members receive a gift card or a getaway trip.
Additional benefits that show we care are team building social events, dental group professional and personal development days, lunches for meetings, in-office holiday celebrations, and recognition and gifts for offices and team members when they go above and beyond. We strive to build an environment of caring that creates warm, fun places to work which in turn creates an atmosphere that both fosters employee retention and enhances the patient experience.
We Care About Team Feedback
Every year, we do a Team Member satisfaction survey that provides an opportunity to evaluate working conditions, benefits, and any other topics that may be timely for a given year. Not only do we ask, but we act on the results. It is our action that shows the teams we care what we think.
Team members are also encouraged to share feedback. Blue Sea Dental has clearly established communication channels and all input is welcomed. Our culture emphasizes the team – and recognizes that all members of the team play a vital role in our ultimate mission of providing exceptional dental care. It is a core value that all team members are treated with respect and consideration. This environment encourages team members at every level to share feedback and suggestions.
We Care About Career Development
We recognize team members whose performance shows growth potential. We offer support toward career growth, promotions, or higher responsibilities. Nearly every member of the Blue Sea Dental leadership and administrative team originally worked in one of our offices. Most of our Office Managers started out working at the Front Desk. There have even been occasions when a team member showed exceptional potential, but we did not have an open position to help them advance so we created one that leveraged their particular skill set.
We Care When Times Are Hard
The Blue Sea Dental group never fails to support its teams when times of hardship arise. Hardships are unplanned and unexpected; therefore, on some occasions, we have gathered funds for their unfortunate circumstances, sent food to their homes, collected money for people who had unforeseen family medical crises, hurricane damage, or other hardships. Management is compassionate about the situations, and with no hesitation, respects their need for time off without the pressure about their absence. Their teammates are the same, covering for them without resentment and assuring them they have their back.
We Care About Our Community
Dr. Paul has always prioritized giving back to the community. On a personal level he has donated his time to local, regional, and international charity dentistry events. As a leader, he oversaw our group's participation in a non-profit day of dentistry which provided free dental care to hundreds of needy community members for several years. In 2022 he achieved one of his career-long dreams and founded a non-profit organization, Smiles for The Community.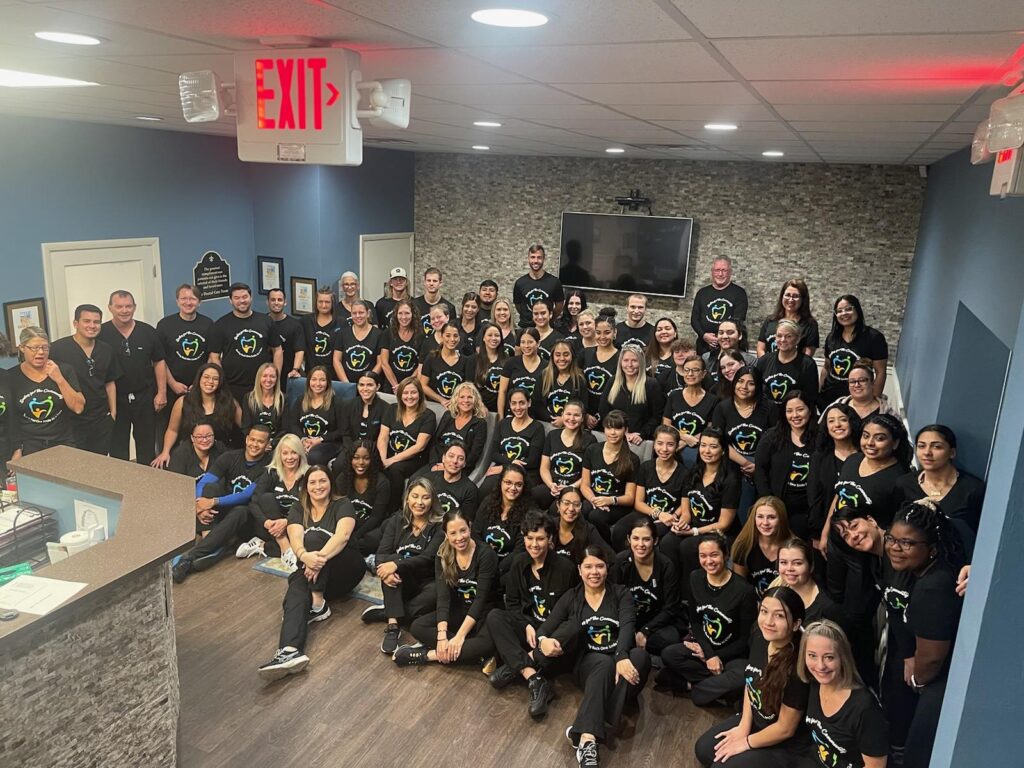 Smiles for the Community is a yearly event in which our dental group provides free dental care to members of the community who might not otherwise have access to care. No questions asked. This event is planned far in advance, with many team members volunteering their time to ensure its success.
We are joined by dental professionals from other local groups as well as business, restaurants, and other non-profit organizations which make the day a fun event. The best part of the event is seeing how participants react to being treated with dignity and compassion as they receive care that relieves their pain or helps them smile with confidence again. Smiles for the Community is the embodiment of our commitment to the 'We Care' principle.
Conclusion
Despite our growth over the years, Dr. Paul has remained committed to his 'I Care' approach. He continues to prioritize having an individual relationship with each team member. He visits each office to encourage and support the team. Whenever possible, he attends in-office celebrations like baby and wedding showers. Our annual company picnic and holiday party are genuine celebrations of our success and times to enjoy quality time with our colleagues and our families.
A highlight of each year is his presentation at our annual holiday party in which Dr. Paul reviews all the personal and professional events and milestones that made that year unique. He also takes the time to prepare a holiday card for each individual team member. Even now that we have grown to many times the size of the original group that saw the founding of that tradition. As the leader of Blue Sea Dental, his continued commitment to showing caring keeps the 'We Care' principle alive and thriving among our teams.
Our culture of caring has protected us from losing valued members of our team. It is no secret that there is a shortage of dental professionals, and the market is extremely competitive. Even so, many of our team members have chosen to stay with us despite being tempted by offers of higher compensation by a competitor. These team members understand that being cared for as individuals is not something you can put a price tag on. And, we believe, it is not something that can easily be replaced. Because 'We Care' is so much more than a pretty phrase to us. It is the foundation of everything we do.